Frequently Asked Questions
Dental Crowns for Adelaide Residents
We offer concise and relevant advice regarding specific treatments that you may need, and efficient action if & when required.
Unlike removable devices such as dentures, which you can take out and clean daily, crowns and bridges are cemented onto existing teeth. It's inevitable that over time and with age, teeth can become damaged, broken or even fall out entirely. Crowns are an excellent way to both protect and restore teeth and to keep you smiling for years to come.
What is a crown?
A crown is a 'cap' that is shaped to match your tooth. It is used to entirely cover the tooth, helping to strengthen it and restore its appearance, shape, size or alignment within the mouth.
There are different types of crowns and crowns can be made from different materials – you'll be able to choose the right one for you depending on where in the mouth the crown will be placed.
Crowns are fitted to the tooth and are cemented onto existing teeth therefore they are not removable. If you need to have the crown removed or refitted, you will need this to be done by a dentist.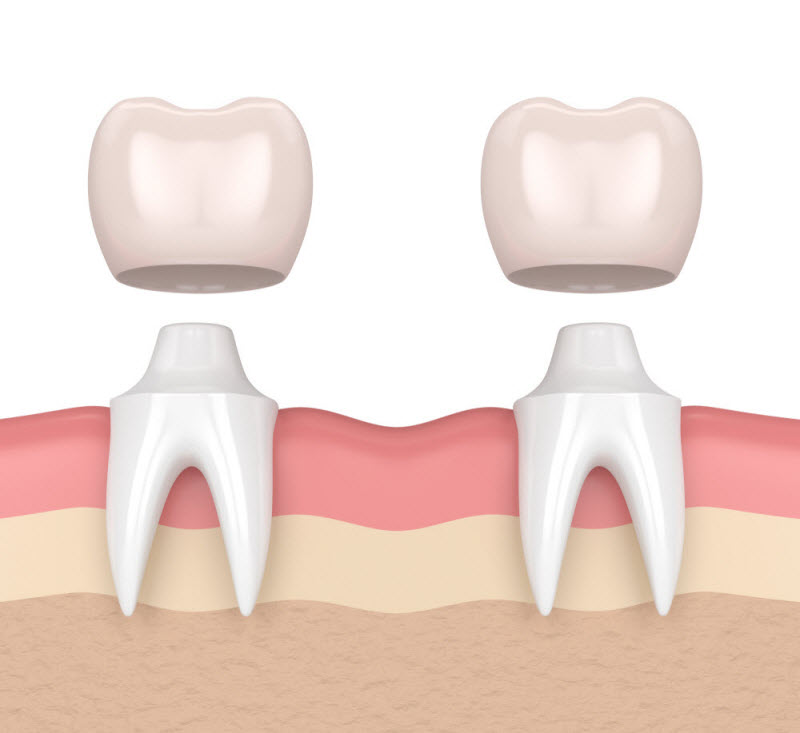 What are crowns used for?
There are a number of scenarios when your dentist may recommend that you have a crown fitted. These include:
To protect a tooth that is likely to break due to weakness or injury
To restore a tooth that has been fractured or chipped
To replace a large filling, especially when there is little tooth structure remaining
To hold a dental bridge in the correct position
To improve the appearance of discoloured or badly shaped teeth
To cover up a dental implant
To cover a tooth that has had root canal treatment
What type of crown is best for you?
Crowns can be made from metal (gold or metal alloys), porcelain or ceramic crowns (porcelain-fused-to-metal or all-porcelain/all-ceramic crowns). Each material is chosen for different situations so our dentist will discuss the type of crown which will be most suitable for you.
What Are Dental Crowns and How Do They Work Video
Comprehensive Dental Exam
Extraction & Minor Surgeries
Partial and Full Dentures
Obstructive Sleep Apnoea (OSA)
Loveable staff and excellent service! The doctor was fast and efficient and had a true patient-centred care about her. The entire interior is modern and kid friendly. Definitely coming back for many years!
My first time seeing Quynh. She was attentive, professional and I felt that she genuinely cares about her patients. I will do my regular check-up with her from now on. The clinic was also clean and organized. Thanks a lot!
Lovely colourful clinic and friendly staff. The dentist took the time to explain the details of the treatment I needed and made sure I was aware of all my options before I decided on a plan. Really helpful! I can't recommend them highly enough! 🙂
Contact Us Today
Open Five Days a Week
Dental Crowns in Mitchell Park, Marion, Adelaide SA | Marion Dental Clinic