Frequently Asked Questions
Teeth Whitening for Adelaide Residents
Looking to boost your smile's appearance by whitening away natural tooth discoloration and stain? Our professional teeth whitening treatments are the perfect way to affordably enhance the colour of your teeth or to plan for upcoming cosmetic veneers and crowns.
How it Works
At Marion Dental Clinic we fit each of our patients with a set of customised whitening trays. To do this, we take an impression of your teeth and then use the mould to create trays that fit precisely around every tooth.
When it's time to pick up your trays, we'll show you how to place the professional grade gel into reservoirs properly. Then, you wear them for about an hour a day until we've achieved the desired results.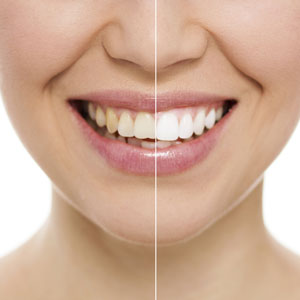 What Type of Results Should I Expect?
Most of our whitening patients see their teeth lighten by two shades in one week. For the best results, here are a few tips to keep in mind:
> Avoid dark liquids, such as tea, coffee and red wine
> If possible, refrain from using tobacco products
> Touch up after each dental clean, to extend your results
> Prone to heavy staining? Touch up every 3-4 months
What About Sensitivity?
Tooth sensitivity is a common side-effect of teeth whitening. To minimise possible discomfort, we recommend that you do not sleep in your trays and use relieving gel after each application. You can also choose to start with a sensitivity toothpaste for about a week before you start your treatment, so that the nerves of your teeth are not so tender.
If your teeth continue to be sensitive, we recommend whitening every other day instead of daily.
Our carefully chosen products are selected to reduce the sensitivity often attributed to same-day teeth whitening that's performed in a dental office, while still giving you professional strength results.
Comprehensive Dental Exam
Extraction & Minor Surgeries
Partial and Full Dentures
Obstructive Sleep Apnoea (OSA)
Loveable staff and excellent service! The doctor was fast and efficient and had a true patient-centred care about her. The entire interior is modern and kid friendly. Definitely coming back for many years!
My first time seeing Quynh. She was attentive, professional and I felt that she genuinely cares about her patients. I will do my regular check-up with her from now on. The clinic was also clean and organized. Thanks a lot!
Lovely colourful clinic and friendly staff. The dentist took the time to explain the details of the treatment I needed and made sure I was aware of all my options before I decided on a plan. Really helpful! I can't recommend them highly enough! 🙂
Contact Us Today
Open Five Days a Week
Teeth Whitening in Mitchell Park, Marion, Adelaide SA | Marion Dental Clinic